Welcome! Our mission is to coach our young adults towards the same marks of faithful Jesus- following that we expect from their parents and grandparents.
We offer opportunities to serve and to study.
The foundation of our mission includes:
Sunday Morning Worship
Bible Study
Prayer
Fun Fellowship Events
Service Projects
Diocesan Retreats
Jesus said, "Let the little children come to me, and do not stop them; for it is to such as these that the kingdom of heaven belongs." And he laid his hands on them. — Matthew 19:14-15
SUNDAY SCHOOL
Sunday School is currently online only via zoom.
Download, print and turn in your 2019-2020 Family Registration form by pressing the button below. Only one form is needed per family.
2019-20 family registration form
Jr High 6th-8th graders: Youth Room 2 in the Bentley Education Center
The Jr. High Sunday School class offers a variety of learning opportunities. We will be using various video Bible studies.
Sr. High 9th-12th graders: Youth Room 3 in the Bentley Education Center
The Sr. High Sunday School class offers a place where students can feel passionate about their faith while discovering who they are. We will be using various curriculum in this class from video series to book studies.
Youth Group
Sunday Nights 6pm-7:15pm
Join us for food, fellowship, prayer, and Bible Study. Bring $5 for dinner. Youth Room 1 & 2
Occasionally Youth Group will meet off campus for a fun activity such as bowling, rock climbing, trampoline parks, etc. Newcomers and friends are always welcome!
Text "@stdsyo" to 81010 for info and text reminders about events.
The Acolyte Corps offers youth the opportunity to read Scripture, assist in the administration of the Holy Communion, and to commit to serve on a regular basis under the direction of a lay leader on Sunday Mornings and at special services. Contact Mitch LeJeune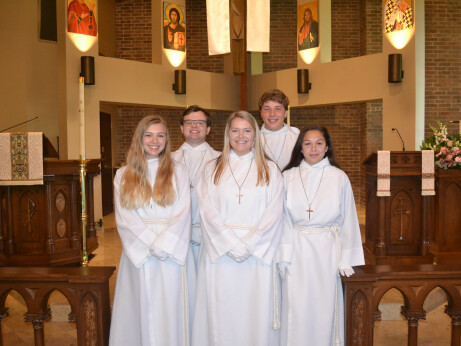 Youth and a senior adult parishioner are paired to meet for lunch and fellowship and to strengthen the bonds of our congregation across generations. The Prayer Partners shared prayer cards so that they would continue to pray for each other over the course of the year. If you are interested in joining, please email Sarah Quiroga or call 281-440-1600.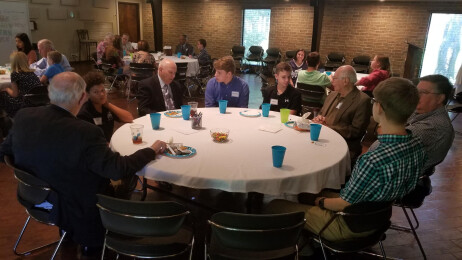 Y.E.S. and Happening:
Youth opportunities for spiritual growth in the piney woods of Camp Allen
Youth Encounter Spirit (Y.E.S.) — for 6th – 8th grade.
The Y.E.S. (Youth Encounter Spirit) weekend designed for 6th-8th graders helps foster a clearer appreciation of self, richer relationships with others, and a deeper experience with Jesus. The aim is for those who attend to discover new thins about themselves, their relationships, God and the church.
Dates for Y.E.S. 2019-2020
January 24-26, April 17-19
HAPPENING—for 9th – 12th grade
Happening is designed to provide an opportunity for high school youth to encounter Christ in the midst of an intentional Christian community. Features of the weekend include teen leadership with support from clergy and lay adults, talks, songs, worship, and small group activities.
Dates for Happening 2019-2020
January 24-26, April 17-19
For more information or to register go to http://www.epicenter.org/youth/
Summer Events
Camp Eagle Highlights from 2019
Safety
All volunteers that work with youth and/or children are required to submit to a thorough background check and attend training. If you are interested in volunteering, please contact Louise Durnell.