The Reverend Dr. Roman D. Roldan
God willing and The Diocese of Texas consenting, The Vestry and The Search Commitee have unanimously elected to call The Reverend Dr. Roman D. Roldan from The Diocese of Louisiana to be The Fourth Rector of St. Dunstan's Episcopal Church effective March 26, 2020.
~ Don Dozier, Senior Warden of St. Dunstan's Episcopal Church
Fr. Roman's first Sunday at St. Dunstan's will be Sunday, March 29th at all services.
about our new Rector
The Reverend Dr. Roman D. Roldan can best be described as husband, father, pastoral care/social worker, Doctor of Theology, professor, world traveler, author, and clergyman. He is currently serving as the Dean of the Baton Rouge Deanery and Rector of Grace Episcopal Church of West Feliciana Parish in St. Francisville, LA. Nestled in the beautiful landmark and historically preserved neighborhoods of St. Francisville, Grace Episcopal is a spiritual home to approximately 350 members.
Fr. Roman has been an Episcopal priest for 12 years serving first at Trinity Episcopal Cathedral in Davenport, IA as an Associate Dean and Director of Family Ministries before coming to Grace Episcopal.
He has a passion for mission work internationally in Honduras and locally at prisons, nursing homes, and food banks. He enjoys serving as a member of the local community in organizations like Rotary Club, West Felician Pastor's Coalition, parades, civil government meetings, blessing new buildings, outreach for local agencies, and working with the Diocese of Louisiana.
Fr. Roman is currently an Adjunct Professor in the Spanish Program at Trinity School for Ministry. He is fluent in Spanish and teaches Systematic Theology, Church History, and oversees Capstone Thesis programs for Latin American students.
Fr. Roman and his wife of 26 years, Chris Anna, have four children. Emily, 26, is engaged to be married in October of 2020 and lives and works in Huntsville, Alabama. Rebeca, 23, is currently pursuing a PhD in organic Chemistry at the University of Michigan. Austin, 18, lives and works in Vancouver, WA, where he is a professional video gamer and an electrician's apprentice. Sarah, 15, is a sophomore at the Louisiana School for Math, Science, and the Arts, a public boarding school in Natchitoches, LA.
In his spare time, Fr. Roman enjoys nature walks, reading books in several different languages, writing, traveling, going to movies, theater, and plays. St. Dunstan's is excited to welcome Fr. Roman and his family!
Education:
Trinity School of Ministry - Ambridge, PA
Doctorate in Ministry
Masters in Divinity
Rutgers State University - Newark, NJ
St. John Vianney College Seminary - Miami, FL
Bachelors of Arts - Philosophy
Our Search | Our Mission | OUr Values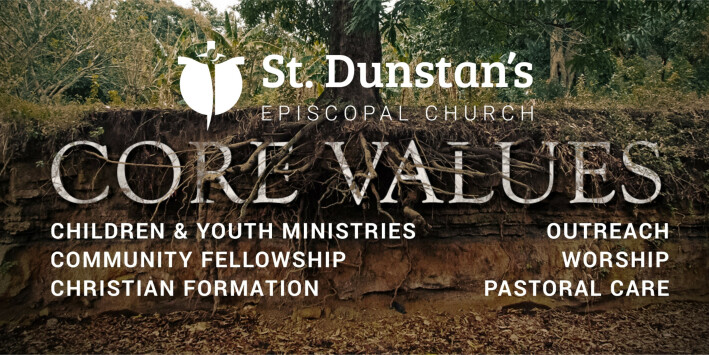 For the last 15 months, St. Dunstan's has been praying for a rector that would lead us in our mission "To Unite All People With The Love of God."
The Search Committee has diligently worked and prayed for someone who would meet St. Dunstan's Core Values that our Parish had identified through our Holy Cow! Assessment. God has graciously, answered our prayers and we are very excited to welcome The Rev'd Dr. Roman Roldan to St. Dunstan's. We look forward to working with our new rector to unite all people with the love of God.
Read below to learn more about Fr. Roman through a reflection of our core values.
May we as a Parish always support him in his leadership, vision and ministry in the years to come.
CHILDREN AND YOUTH MINISTRIES: Fr. Roman served as the Director of Family Ministries while at Trinity Episcopal Cathedral in Iowa. There he oversaw the return of Sunday School, created a Youth Group, connected the youth to the Diocesan Youth Ministry, led youth mission trips, and implemented programs such as Godly Play and Journey to Adulthood. Fr. Roman actively participated in the Diocesan Youth Ministry Development Team.
At Grace Episcopal, Fr. Roman led a major program expansion which reintroduced "Church Mice" (a children's program that meets once a month for dinner, a lesson, and a craft), after-school programs, and a preschool.
COMMUNITY FELLOWSHIP: At Grace Episcopal, Fr. Roman established a 50's fellowship group, increased attendance by 33% and is a strong believer in the gift of community.
CHRISTIAN FORMATION: Fr. Roman strengthened adult formation at Grace Episcopal by expanding programs such as daily morning prayer, bible study, and adult Sunday school classes.
OUTREACH: Fr. Roman was the first rector at Grace Episcopal to organize and send a team into the mission field. He successfully raised funds needed to build a church in Honduras and led several teams to help in the construction, provided Vacation Bible School, and brought communion to several home bound members in the local community.
During the historic floods in 2016-2017 in Louisiana, Fr. Roman successfully created an outreach disaster response which included teams of volunteers to help with clean up, restorations, emergency assistance, $800K in rebuild grants, and a creation of a Case Management Team to follow up. He was appointed Diocesan Response Coordinator during this time.
Fr. Roman also created an Outreach Committee while at Grace Episcopal to review requests for assistance and funding to various outreach cases, projects and groups.
WORSHIP: Fr. Roman began his ministry in the Catholic Church and fell in love with their reverence for the Sacrament of the Table and traditions like incense and bells. When he became an Episcopalian, he fell in love with the attention to the preaching of the Word. These two influences have combined to create a broad liturgical style centered on the Book of Common Prayer and Biblical preaching. Fr. Roman feels that liturgy must be carefully planned, but must feel organic, relaxed and joyful. "Liturgy needs to be centered on Christ, as all we do honors the Father in his Son, by the power of the Holy Spirit."
PASTORAL CARE: "Pastoral Care is the responsibility of the entire church, and those who pay close attention to it grow churches." Fr. Roman saw a need for Lay Eucharistic Visitors at Grace Episcopal and created teams to serve the community. He also led pastoral care volunteers ministering to those in the Louisiana State Penitentiary, local nursing homes, and a local food bank. In addition, Fr. Roman spent 25 years as a social worker, Program Manager and Deputy Director for adult and juvenile justice residential behavioral mental health programs.
Sunday, April 19th at 10:10am
we will have a Welcome Reception for Fr. Roman and his family
in conjunction with all our Thomas Sunday festivities!
EGG HUNTS | PETTING ZOO | INFLATABLES | PONY RIDES | FOOD | FELLOWSHIP